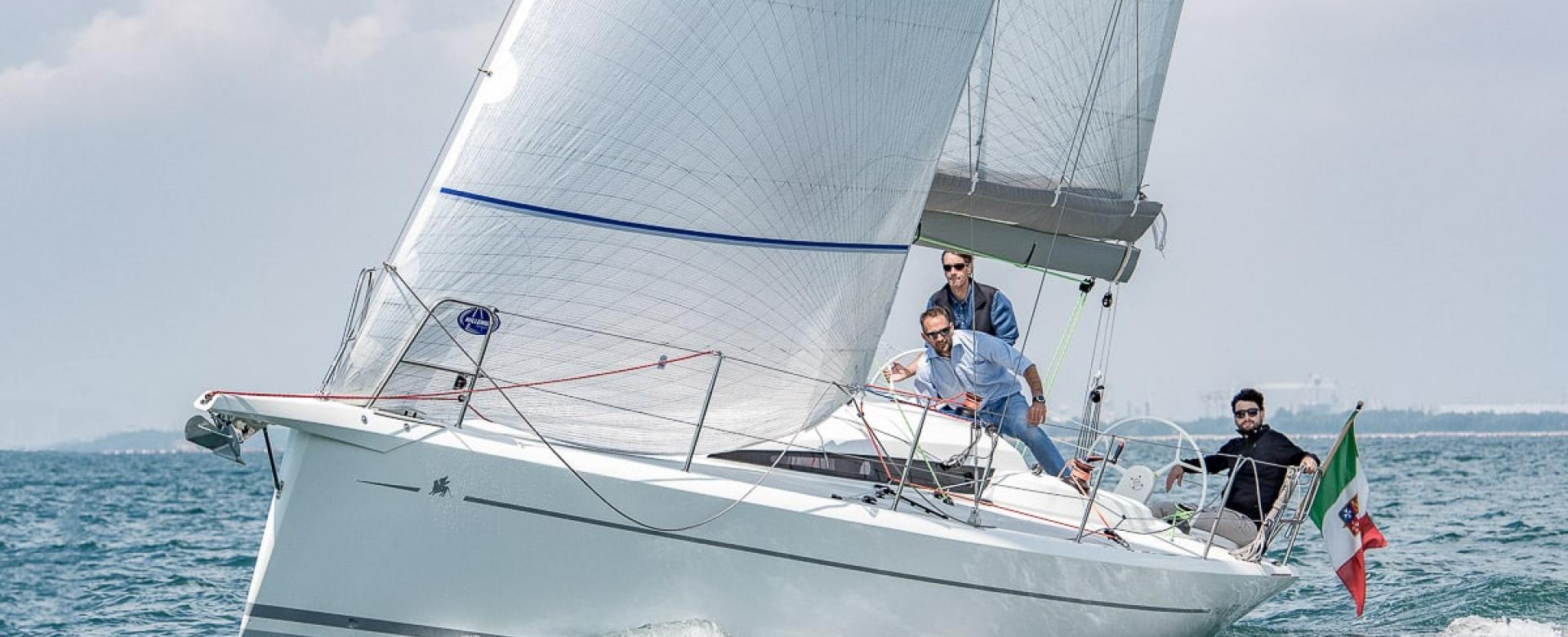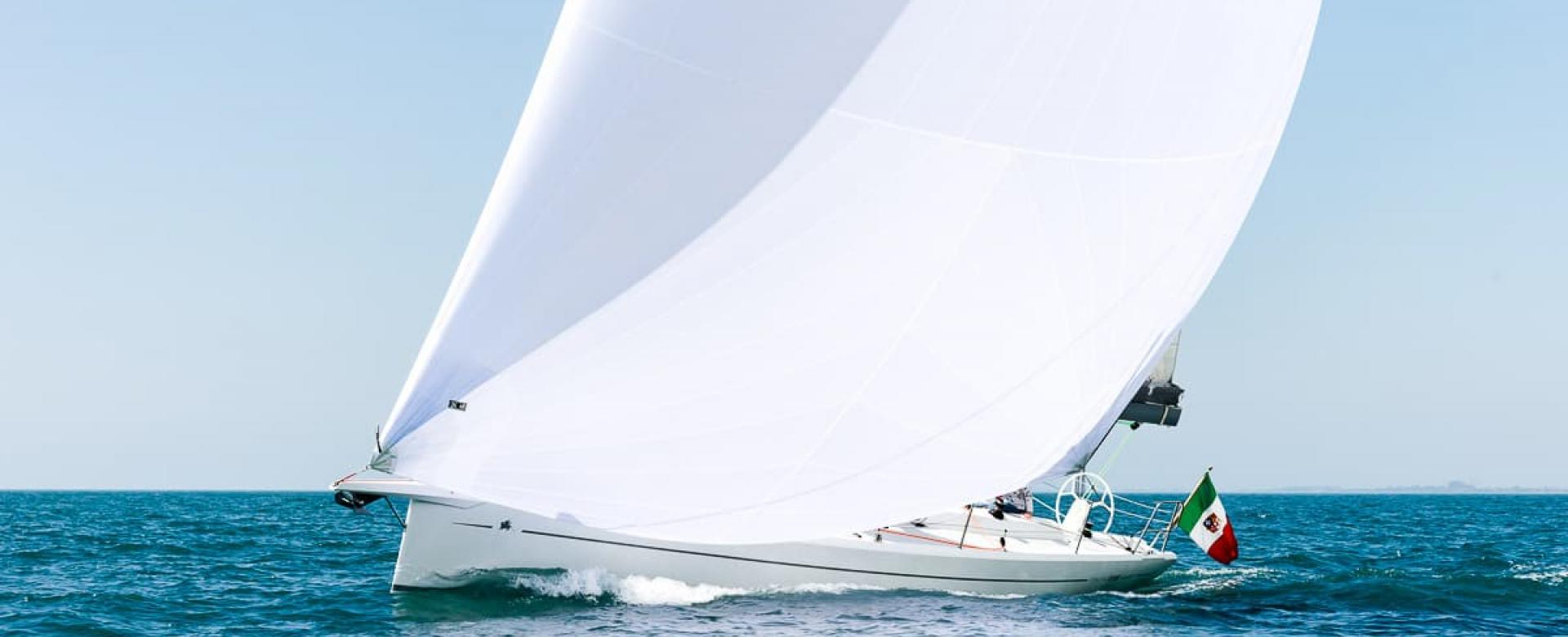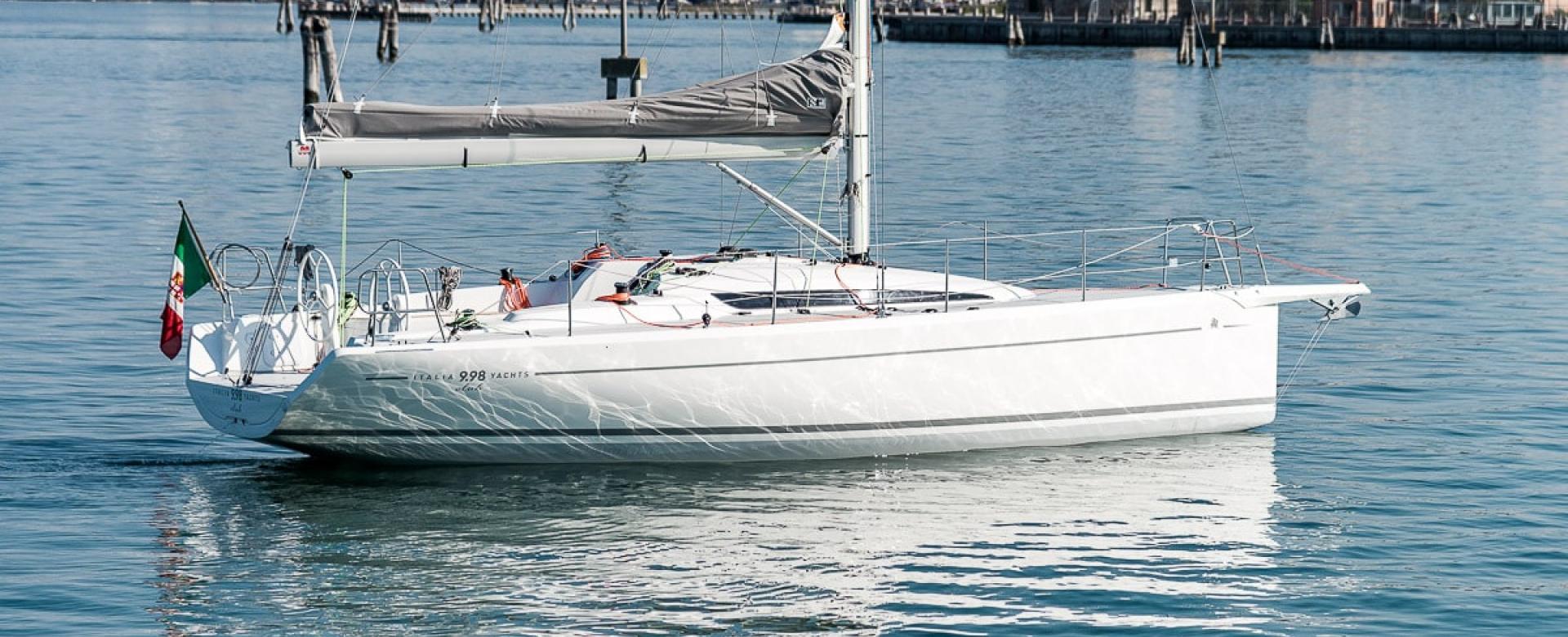 Italia Yachts 9.98
/Italia-Yachts
Italia Yachts

Italia Yachts 9.98
Italia 9.98, powerful and balanced
Even if Italia 9.98 is the smallest range boat, it encloses all the most important features defining the Italia Yachts brand. Italia 9.98 is designed specifically for fun sailing and is particularly dedicated to handicap racing (ORC and IRC), but it is also well indicated for short cruises.
Italia 9.98 is a fast boat but at the same time easy to sail. The main project puropose has been to find the correct balance between the different kind of use, from windward-leeward races to offshore racing or cruising, obtaining a true all-round yacht with an optimal balance between upwind and downwind performance both in light and strong winds.
Italia 9.98: one spirit, two versions
The 9.98 models were created by Italia Yachts chief designer Matteo Polli in collaboration with hull designer Matteo Ledri of CapeHorn Engineering for CFD analysis and the interior designer Kristian Macchiut of KMD.
In 2017, the Italia 9.98 Bellissima – almost identical in construction and performance to the 9.98 Fuoriserie – was launched. With only minor modifications needing to be made the Bellissima is designed to be more comfortable to cruise.
Italia 9.98 will have you sailing faster and safer. Winner of two consecutive ORC World Championships 9.98 Fuoriserie is a pure race version. The 9.98 Bellissima is equally as happy flat out in race mode or on a relaxing family cruise.
Design philosophy
Italia's 9.98 concept is to make sailing fun. The essential feature is a powerful easy to helm boat that gives you the optimum balance between upwind and downwind performance in strong or light winds. 9.98 Fuoriserie version is a pure race boat designed to win cups in ORC and IRC handicap racing. The 9.98 Bellissima is perfect for both cruising and racing.
Construction
Both versions of Italia's 9.98 have the same basic construction and are made of the same materials. Hull and deck are sandwich with a variable density PVC core. The outer layers are biaxial and unidirectional glass fibres impregnated with vinyl ester resin.
A single structural frame, bonded internally reinforces the hull spreading the mast, keel and rigging loads. Hull and deck are finished in gelcoat with the cockpit and side decks having a moulded nonslip surface.
Clever design below the waterline
The use of CFD in designing keel, bulb and rudder together with the team's regatta experience has led to the perfect balance of performance and handling. The all lead fintorpedo is 40% of the overall displacement and has a very high hydrodynamic efficiency. The foil sections are the result of a careful optimization process: the result is minimum drag and good flow stability in all conditions. The generous rudder area and high aspect ratio has resulted in superb
manoeuvrability and an exceptionally responsive helm.
Yacht of the Year
Italia 9.98 was nominated for the important International award "European Yacht of the Year", in the Performance Cruiser category.
Italia 9.98 Fuoriserie
The essence of a pure racer
Italia 9.98's hull, keel and rudder were designed using extensive computational fluid dynamics modelling to maximise velocity performance using prediction programs. The resulting design has slender waterlines and straight buttock lines when upright. This gives the advantage on downwind legs, whereas at increasing heeling angles, waterlines get much wider giving greater stability whilst remaining symmetrical and balanced. This design has led to the perfect balance
of performance and handling.
Italia 9.98 Fuoriserie Interiors Design
Italia 9.98 Fuoriserie have two cabins – one forward and one aft, really roomy heads, open plan central saloon, L shaped galley and an unexpectedly comfortable navigation station. The chart table on the starboard side is opposite the galley – equipped with a sink, generous fridge and a gimballed two burner stove.
The modern look below is light, bright and airy characterized by a polished gelcoat finish giving surfaces that are attractive yet functional for racing. Innovative fabric lockers are removable to minimise displacement in race mode. An attractive antislip coating is bonded to the marine ply cabin soles. All cabin doors have aluminium frames for greater durability.
Technical Specifications
| | |
| --- | --- |
| Naval architecture | Matteo Polli / Italia Yachts |
| Interior design | Kristian Macchiut (KMD) |
| Exterior design | Kristian Macchiut / Matteo Polli |
| Engineering & structural design | Matteo Polli / Italia Yachts |
| Length over all | 10.30 m (34 ft) |
| Max beam | 3.54 m (11,6 ft) |
| Draft | 1.90 m (6,2 ft) |
| Displacement | 4,500 kg (9,920 lbs) |
| Mainsail area | 38 sm (409 sq ft) |
| Jib area | 32 sm (344.4 sq ft) |
| Spinnaker area | 90 sm (968,7 sq ft) |
| Gennaker area | 105 sm (1.131 sq ft) |
| GPH ORC | 625 - 630 sec/m |
| IRC TCC | 1,015 - 1,025 |