Ita Catamarans
Elegance, Comfort, Sportiness. Three different souls for an innovative hull, conveyed by elegant and dynamic lines.

A work of high naval engineering, born from the vision to combine Italian elegance and attention to detail with the best and most advanced international technology. 14.99 is the first project created by ITACATAMARANS: a multihull of excellence, technologically sophisticated, safe and comfortable, redefining the world of catamarans.
DESIGN
SAIL INTO A DIFFERENT STYLE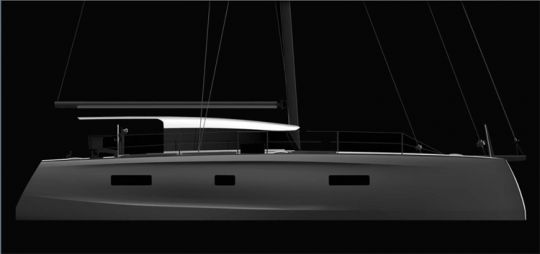 Designed by an international team of architects and designers, and made entirely in the Italian region of Marche, the Silicon Valley of the nautical industry, ITA 14.99 is a work of high naval engineering, built exclusively using only certified materials and cutting-edge techniques. The design and the latest technology used for ITA's construction help in obtaining a lightweight yet extremely rigid structure, able to sustain any navigational stress, yet without compromising space and liveability. The special design of the hull interior elements, and the high quality of materials and construction techniques, make

ITA 14.99 a catamaran among the safest in the market.
DESIGN BY: PÉRUS • SCOLARI • HERTWIG - YACHT DESIGN COLLECTIVE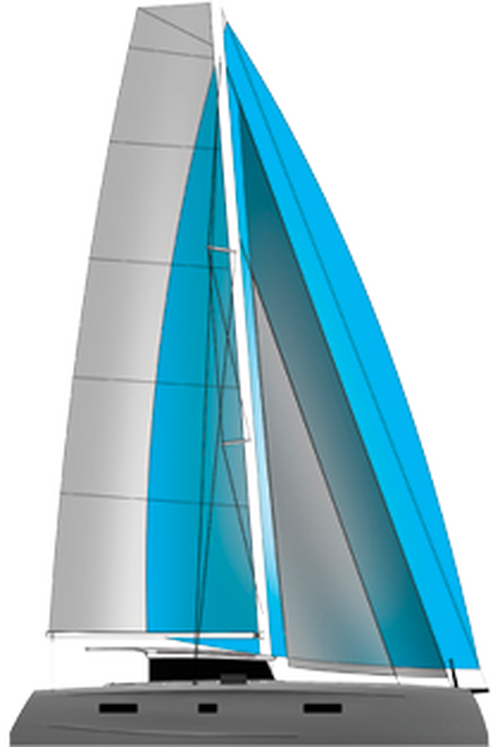 The Sail Plan is representative of ITA14.99's design: modern, elegant and efficient.
A fractional rig was setup for ease to single-handle or with a reduced crew. With the boat's displacement, the self tacking jib and square top mainsail are enough to power the catamaran.
Moreover, with ITA14.99 creating her own wind, the apparent wind is almost always upwind thus the self tacking jib the perfect foresail. The high aspect ratio of the sails make them more efficient for the same area. With light breeze we recommend to furl the jib and use a Code 0 which will power the boat faster than wind and get your pulse rising! The design of the mast foresees two exits at the top to have an halyard also ready for downwind sail.
SUSTAINABILITY
SAIL INTO A DIFFERENT WORLD
Sustainability, a philosophy vigorously pursued by ITACATAMARANS,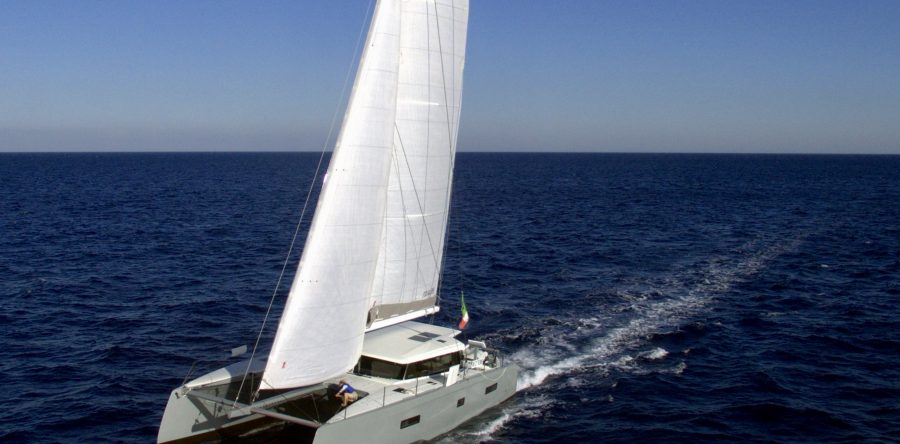 which finds its ultimate expression in the innovative solutions adopted on ITA's 14.99 catamaran. 
Thanks to the important partnership with OCEANVOLT, Finnish global leader in electric propulsion for pleasure boats, ITA 14.99 is sustainable, clean and self-sufficient energy-wise. The lithium batteries are recharged during sailing through the same propellers and a system of solar panels can work in parallel to generate the required energy. Furthermore, ITA 14.99 is equipped with a SCHENKER disalter which uses  "Energy Recovery System", a  new patented device that amplifies the normal pressure of low-pressure pumps and recovers all the return hydraulic energy from the membranes, allowing for a reduction of power consumption up to 80%. ITACATAMARANS' goal is to offer a high quality product with superior innovative content and excellent service every day of the year, without compromising in any way aspects of sustainability and safety.